06 sEptember mInus oNe tEnor......
Luciano Pavarotti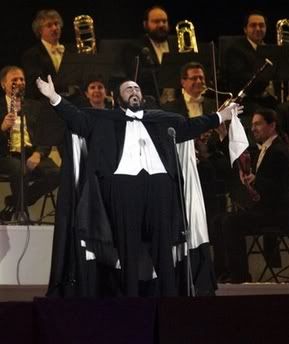 fOr those who don't know who this is, or are too young to remember who this is, meet Pavarotti, one of the greatest (errr....no pun intended) man/singer that had ever lived.
hE was known not only for his 'presence', but even more for his voice.
Pavarotti,
a name that had followed me all through the years,
a name that had made it's way into jokes and admiration in my life,
a voice any man, who had sung the tenor part would kill for,
aN inspiration, a target, a standard.
Pavarotti,
hE's been called.....
hE was 71....
tHus another voice is silenced.....
Pavarotti,
yOur spirit lives on in your legacy....
yOu will always remain in my memory....
mAy you rest in peace.